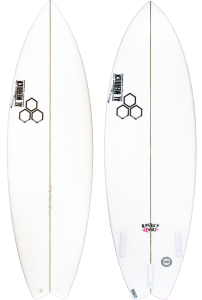 Introducing the Rocket Wide.
The incredibly user-friendly cousin of the Rocket 9.
"My brothers and I loved the speed and control we were feeling with the Rocket 9 and we wanted to see how we could apply those same levels of fun and performance to a board for small and gutless waves.  The Rocket Wide features a wider tail block to skate across flat sections and a wider nose area to accommodate for better paddle power.  It's a shorter, wider skate machine designed to lift the fun factor when the waves are not a their best.  So don't let those small days get you down cause the Rocket Wide is ready for blast off!!" -Dane
Available stock in 3 or 5 fin configurations.
Advanced surfers will ride this 2″-4″ shorter than their height.